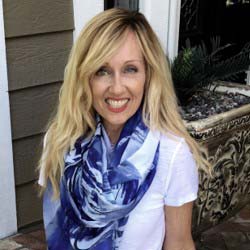 Elizabeth has been an interior designer for over 25 years; however, began her painting journey in 2014. She had never painted before and feels it was God's gift of grace, comfort and purpose that showed up in the gift of painting after the devastating and unexpected death of her son Travis who was just 20 years old. With the utilization of watercolor and ink mediums, combined with her loose contemporary style, use of beautifully mixed color combinations and subject matter often being Angels, Elizabeth's style is unique, highly expressive, inspirational and recognizable. She created a gift line of her watercolor Angel prints called The Giving Gift. These can be found in gift and book stores as well as her website at www.givinggiftstudios.com. All prints sold come with a "Blessing Card" intended to be personalized and given with each print.
She also has a love of abstract and mid-century style art. Beyond watercolor she explores the use of mixed media and acrylic paints. Her utilization of heavy textures, vibrant colors, and technique of using palette knife and brush together create a style and look uniquely her own. Another trait often found in her paintings is the use of gold or various colored metallic paints blended into or accenting the piece. Her original works are currently displayed at The Alice Rice Gallery at 484 Pacific Coast Highway in Laguna Beach, California.
Elizabeth is inspired by her faith and a grateful heart. She paints from her life experiences and things she loves as seen through her own eyes and interpretation. This makes for a one of a kind piece of art to cherish for years to come.
Elizabeth Moersch does commissioned work and can be contacted at givinggiftstudios@gmail.com.
Email: givinggiftstudios@gmail.com
Website: www.givinggiftstudios.com
Contact Details
PO Box 2572 Capistrano Beach,
CA 92624