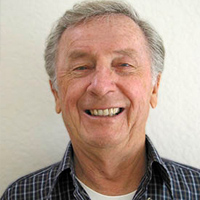 Born in Bohemia, as an American Citizen, Frank came to the United States while still a teenager. He lives with his wife in Laguna Niguel.
His early interest in photography developed while serving in the US Armed Forces. Using his first camera, a Kodak Retina, he won photographic awards. This encouragement has become a passion for Frank for his photography.
His love of the outdoors allows him, through photography, to communicate his vision of the natural world around him. He strives to capture the essence of the subject.
Frank's images create a sense of depth and dimension by use of his sense of composition, color, and high visual impact. His images can evoke a question or a second look by the viewer and draw the viewer into the image.
His many photo awards include, Grand prize-Hawaii Magazine, First Place-Rite Aide National contest, first place – Country Magazine, and a Merit award in a Kodak International Newspaper Contest. His work is included in the permanent collection for the Orange County Fair. He has been published in Hawaii, Country, and Birds and Blooms magazines.
His passion continues, and he is an active member in the Dana Point Fine Arts Association.
Email: franksfotoimages@aol.com
Contact Details
PO Box 2572 Capistrano Beach,
CA 92624