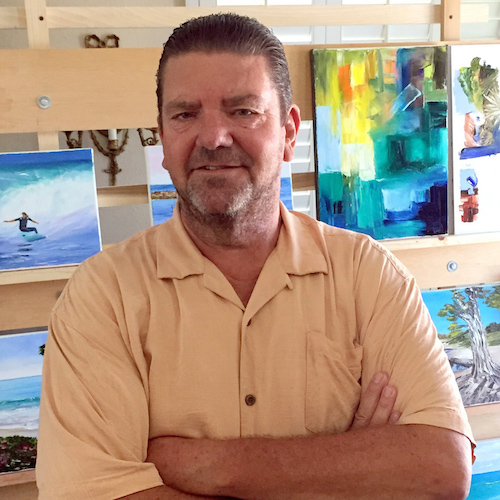 As an emerging artist, I am so excited to be able to capture my love of the land and sea through my oil paintings. There is nowhere on earth that I would rather be than in the beauty of Orange County and the incredible ocean shores we have to enjoy.
Born in Los Angeles in the mid 1950's, I was blessed to have a very talented and artistic family. A Grandfather (Earl Abel Sr.) who was an organist for silent movies and an esteemed Restaurateur, a father (Earl Abel Jr.) who followed in the restaurant business and became both an honored restaurant manager and co-song writer, an Uncle (Clyde Beatty Sr.) who was a famous Lion Tamer and owned the Clyde Beatty Circus and a cousin (Clyde Beatty Jr.) who is a California Surfboard Industry legend and continues to create surfboards to this day.
Moving to Texas at an early age, it was there that I discovered my own creative talents. My first exposure to Oil Paintings was at my Grandfathers house in San Antonio where he had many unique Impressionistic paintings. The most prized painting was a landscape painting by Jose Vives-Atsara. It burned an image of the style I would aspire to be able to create in Oil Paint.
It wasn't in traditional arts that my creative background started, but rather in the culinary field. Working in restaurant and hotel kitchens starting at age 15, I was especially drawn to the preparation and presentation of food. Working for mostly European Executive Chef's early on in the hotel business, opened my eyes to not only the culinary world, but world travel destinations. It also taught me the skill of Ice Sculptures which was a marvel for the time.
A local California Artist and native Californian, I enjoy painting with the Medium of Oil using Palette Knives rather than brushes. "With the abundant beauty of our local coastal and inland areas, I am constantly amazed with the changing sights and scenes we have to enjoy in our own backyard. I strive to capture the location and mood where I am at that moment and put it on canvas." I currently study with Maestro Javier Alvarez at the Laguna Canyon Art Studios.
RECENT EVENTS
2014 San Clemente Village Art Faire
2015 San Clemente Village Art Faire
2015 Huntington Beach Art walk
2015 Balboa Island Art Walk
2015 Laguna Beach Art Walk
2015 Irvine Studio Arts Festival
2015 Ocean Fest San Clemente
2015 Olive Festival La Mirada
GALLERIES
Cove Gallery Laguna Beach, CA
Showcase Gallery Costa Mesa/Santa Ana, CA
COMMISSION WORK
Garry accepts Commission Work and will customize paintings to the color and size of your preference.  Garry's previous commissioned works are in private homes in Houston, Texas and the Boston area.
Contact Details
PO Box 2572 Capistrano Beach,
CA 92624