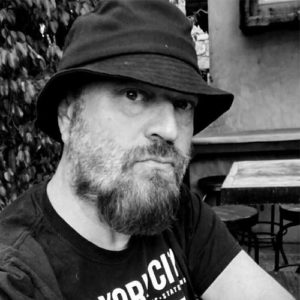 Master of "The Uninterrupted Brush Stroke"
Clovis is a native of Orange County California. Since creating his first painting in 2004, his art has been purchased by Cities, Galleries, 5 Star Resorts, Designers and numerous Collectors from coast to coast and around the world. In 2016 Clovis left his career in Management to become a full time Artist.
This art was created to be inspirational, emotional & thought evoking.
In June of 2004 I literally woke at 3:00 am with an idea of a painting style. I had not painted yet, but already knew what my art would look like. I purchased paints and brushes the next day. I sold my first painting for $1800 within 6 weeks on the internet. Ever since then I have been exploring multiple directions and the list of ideas keeps growing. In most of my work I like to use long uninterrupted brush strokes. I also like to evoke thought and conversation through morphing, visual metaphors, "Multifunctionalism" (my original term), hidden images and optical illusions. Everything comes from inside of my head. For me, everything is an expression and realism is not the point. Beauty and inspiration are the intended result.
Now that I have painted for many years, I feel that my life is not as much about MY art, as it IS about inspiring others to try new things, use their gifts, find their passion, & dream.
Email: TheMait@aol.com
Website: www.JerryClovis.com
Contact Details
PO Box 2572 Capistrano Beach,
CA 92624