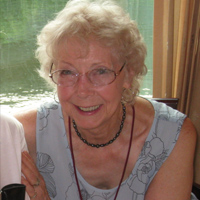 Most of my paintings are in Watercolor, plus a few in other mediums. Member of Laguna Woods Art and Dana Point Fine Arts Associations.
Was Born in Washington state – also lived in Kentucky, Oregon, the San Fernando Valley, and Torrance, CA – before arriving in Laguna Woods 22 years ago. Full time Graphic Artist for more than 35 years – 20 years at Xerox Corp. in El Segundo. Have been painting since I was 14, had many teachers, and taken art classes and workshops through the years: Glendale & Valley Colleges and the Famous Artists' Course.
Art teachers: Hal Reed, Gene Inglis, Ruth Eyrich, Jake Lee. And local artists: Roger Folk; David Solomon, Marlene Gerloff, Judy Schroeder, Jim Salchak, and Roger Armstrong. Workshops with Joyce Pike, Betty Carr, Judi Betts, Matt Smith, Tom Lynch, Rex Brandt, Frank Webb, etc.
Many of my paintings are of Scandinavia. Also paint people, local scenery and enjoy painting the ocean and boats. I take hundreds of photos, which I paint from. One of my favorite places is the Laguna Beach coast, with its interesting beaches and bluffs.
Email: jcjohnson.3@sbcglobal.net
Contact Details
PO Box 2572 Capistrano Beach,
CA 92624