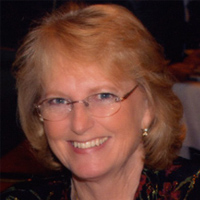 Although she has dabbled in art ever since she can remember, it wasn't until Lynn minored in art at Oregon State University that she began her passion for drawing, painting and creating anything she could. After graduating from OSU, she became a teacher, married her soul mate, Gary, and had two sons. She continued to take art classes when she could find the time. For several years, Lynn did commission oil paintings and sold her art in Oregon and Washington. Eventually moving to Southern California, her art was put on hold while teaching and raising their two sons.
Then in January of 2000, while substituting in a high school art class, Lynn discovered Prisma colored pencils. Combining her new found media and love for lighthouses, she began drawing a series of lighthouses. As her love for colored pencils grew, so did her subject matter. Her drawings now include scenes from their many travels, animals, flowers and her favorite, children.
Using her realistic style, depicting her passion for detail, Lynn continues to draw new subjects. It is her heartfelt desire that you can see the wonder of God's creation in her drawings.
Email: drawingsbylnewell@cox.net
Website: www.drawingsbylnewell.com
Contact Details
PO Box 2572 Capistrano Beach,
CA 92624