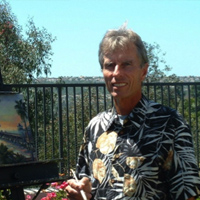 Although learning to paint as a child from his artist mother, Steve has been a full-time professional artist for the last sixteen years. His first career was flying for the Air Force and later as captain with commercial airlines PSA and USair. But while racking up more hours in the air than ever deemed prudent for mortals with only legs, he also moonlighted as a humorous greeting card writer and free-lance magazine cartoonist. His clients included Cosmopolitan, Good Housekeeping and hundreds more publications. The syndicated newspaper comic strip, "The Captain and Mandy," appeared in over 80 newspapers nationwide.
Nowadays, one usually finds Steve painting inspiration outside, plein air. In the intervening years he has studied with some of the most respected artists in the West, eventually developing his own unique style. Steve has been invited to many prestigious art festivals, including Telluride, Sonoma and Carmel plein air events, and enjoys memberships in the following organizations: Laguna Plein Air Painters Association, Southern California Plein Air Painters Association, Oil Painters of America, San Clemente Art Association, Dana Point Fine Arts Association, California Art Club, Dana Point Coastal Arts
Represented by Westervelt's Gallery, Laguna Niguel, Ca., Studio 7, Laguna North, Laguna Beach, Ca., Mission Fine Art Gallery (Manager), San Juan Capistrano, Ca, Chemers Gallery, Tustin, Ca., The Store, Crystal Cove, Ca.
Email: Johnstevekell@att.net
Contact Details
PO Box 2572 Capistrano Beach,
CA 92624