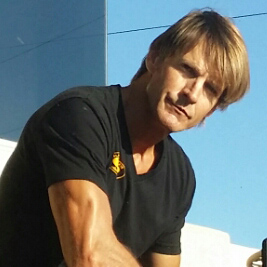 Tom Youdbulis, a "natural born" artist, hails from the midwest where he began drawing at age three. Always a visionary, his art progressed into watercolor paintings, not just simple still lifes; he dreamed of far away places and brought them to life from pictures in encyclopedias. His first, almost acclaimed piece, in the third grade was that of the Taj Mahal. His art was so advanced from his peers that his teacher and judges passed him by stating they were sure this was the work of a parent and not a young boy.
Luckily, his high school teacher and mentor, an acclaimed artist himself, saw the talent in Tom and showed him the many mediums available along with painting techniques. Like a kid in a candy store, Tom explored it all with great enthusiasm going on to become an award winning painter, air brush artist and graphic illustrator. He was chosen for advanced studies at a vocational school for commercial art where he won regional, state, and national VICA and Hallmark awards. His talent went on to win him acceptance at the Chicago Art Institute and his art career ensued from there.
Having served in the U.S. Airforce and National Guard as a graphic design specialist and through the years as a professional commercial artist, Tom has been commissioned for corporate and private design projects including large scale murals, custom automobile racing art, unique wall graphics, and custom hand lettering. Later, the Beach Boys' songs inspired the "California dream" and brought him west. The moment he gazed at the great Pacific Ocean, he knew he was destined to be here. Tom sees the ocean as an ever-changing and fascinating focus for his art. He captures light and movement in the waves, bringing his painting to life with a modern , sometimes stylized, yet provocative detail that allows the viewer to experience the water as though they were right in front of it. While he primarily paints with oil, he also works with several other mediums in combination to add a 3-dimensional level to his paintings on canvas, metals, and other surfaces.
The ocean comes to life in every painting produced by Tom. Through his artistic interpretation, you too, can share the passion and enjoy its beauty.
Email: tommyray321@yahoo.com
Website: www.alicericegallery.com/
Instagram: Oceanartyoudbulis
Facebook: Tom Youdbulis Studio
Contact Details
PO Box 2572 Capistrano Beach,
CA 92624